Shopping Cart
Your Cart is Empty
Thank you for your business!
You should be receiving an order confirmation from Paypal shortly.
Exit Shopping Cart
Elite Sales Consulting Group
Martin Perdomo is the Founder/Director of Elite Sales Consulting Group, a professional and personal development company created to inspire, equip, and empower leaders, entrepreneurs, youth & young adults to live a life by design and not by default. He is the host to Elite Strategies Radio Show on redinkradiolive.com every Monday at 9 am est. and Thursdays at 6 pm est. He provides his listeners with empowering strategies to live a more happier and fulfilled life in all areas of their life. You can listen to his archived shows right here on this website.
Martin Perdomo is an inspired instructor, speaker, philosopher, entrepreneur. He acquires the skills to help remove any negative emotion or limiting belief when working with him. He will get you out of any stuck state… GUARANTEED RESULTS ! His fulfillment comes from empowering and equipping "MINDS" to think different in order to live and be different. Martin embraces the challenge of helping individuals shift their thoughts into actions by helping them find what they really want in their life and creating congruency in their mind so that you can go towards what you want at an accelerated pace. He excels them into their purpose through professional empowerment, self and personal development, and leadership development.
WHO?MAG Digital Distribution is the new answer for independent artists to level the playing field in the entertainment world. Our strong individual relationships with distribution channels globally allow us an extensive reach that you as the client will benefit from.
What separates us from other companies is that you will benefit from being attached to one of the most recognizable names in the entertainment industry and have traffic directed from our website www.whomag.net and through our nationwide TV program WHO?MAG TV which currently airs in almost 200,000,000 households on 9 networks and airing in all 50 states in the U.S.A . We work with all types of music including rock, rap, dance, country, gospel, and more.
Enon Tabernacle Baptist Church is a faith community of over 15,000 members committed to using their collective resources to strengthen families and communities. The first African-American Baptist church in the Germantown section of Philadelphia, Enon's impact is felt beyond the walls of its physical structures, spilling into the local community, throughout the city of Philadelphia, and reaching across the globe to Africa. Under the leadership of its current Senior Pastor, Reverend Dr. Alyn E. Waller, Enon is proud to have contributed over $1 million to organizations, including the UNCF, which are meeting critical needs.
Countless Enon members provide the community with a wide range of other free services, including tutoring, food and clothes distribution, counseling and transportation. The church's legal ministry host free legal clinics, its medical professionals sponsor health fairs, its financial ministry helps the community get their business affairs in order, and members enrich the lives of the elderly, the infirmed and the incarcerated by regularly visiting and encouraging those in nursing homes, hospitals and prisons.
Christian Library On Demand
CLD is an entertainment resource for programming and products that can't be found anywhere else. We specialize in Christian, values-based and/or family-fare programming of all genres: movies, documentaries, kids shows, sports, drama, music programming and more.​ We deliver our entertainment through EnLive (Video on Demand on cable) and CLD Select (online streaming).
EnLive is our subscription Video On Demand service – providing safe, values-based programming for all ages and interests. We are currently available on Armstrong Cable serving Ohio, Pennsylvania, New York and West Virginia, Maryland and Kentucky. If you would like your cable service to carry EnLive – contact and tell them today!CLD Select connects hard-to-find films with audiences that will enjoy them. Access unique shorts, independent movies and never-before-seen films.If you enjoy Indie films or films that represent an interesting cause or perspective, CLD Select will always have something to entertain you. More movies are being added ALL THE TIME – we'll keep you updated.
BK Royston Publishing is a publishing company established in 2008 to publish high quality and enjoyable inspirational materials for all ages. BK Royston Publishing has assisted several authors with receiving the guidance, information and services necessary to complete and publish a high quality publication. BK Royston Publishing stays on the cutting edge of publishing by providing publications in multiple formats including paperback, hard back, eBook, Kindle and mobile device.
Independent Film and Music Entertainment, brought to you by the award winning production home of WHOMAG Multimedia, is the new entertainment TV network for today's generation. Our content consists of a ton of exclusive movies, TV shows, music videos, concerts, interviews, and more. We currently reach over 40,000,000 households through ROKU (IPTV) and Yamgo (Streaming Cellular) as well as streaming live online at www.ifametv.com .
We currently air in the US, UK, Canada, and Ireland. The goal of iFame TV is to bring back the uniqueness of the music and movie TV network and make it all about the artists and the TV content. We specialize in breaking new independent TV shows, incredible new music artists, groundbreaking movies, plus intertwining a hot fresh feel with some classic music programming.
Carl Jackson Entertainment
Carl Jackson Entertainment, was founded and is owned by American singer and filmmaker Carl Elijah Jackson in 2002. Carl Jackson has executive produced, produced, and directed the movie Inhumanity starring Todd Bridges with Faizon Love, CHURCH starring Irma P. Hall the DOVE Foundation approved movie "Southern Girls" with original music produced by Phil Keaggy, "Blissful Lies" starring Emmy Award winning Leann Hunley, and "Strong Black Woman".
Carl Jackson has directed several music videos for notable gospel artists such as Angie Winans, Deitrick Haddon, The Rance Allen Group, and Vanessa Bell Armstrong. The work of Carl Jackson has been featured in the American WOW gospel music compilation DVD series, 2003, 2005 and 2009. On Friday July 19th 2013, Carl Jackson launched CJC Network around the world. CJC is the first television channel for Smart TVs and products, running 24 hours a day in America, Canada and the UK. CJC features movies, original series, concert specials and more.
Willie Jolley Worldwide Productions

Willie Jolley is a world-class award-winning speaker, best-selling author and multimedia personality. In the January 2010 issue of Success Magazine, Willie Jolley was hailed as the 'Comeback King.' He earned this title for successfully helping Ford Motors avert the need to accept bail out dollars! Ford hired Willie to speak to all their employees, plus helped them design an internal communications campaign to reinforce the Ford "Bold Moves" messages.
He was named "One of the Outstanding Five Speakers in the World" by Toastmasters International. Less than 50 speakers worldwide hold that honor! Former winners include Nelson Mandela, Christopher Reeve, Margaret Thatcher and Colin Powell! Willie Jolley is the author of several international best-selling books including "It Only Takes a Minute to Change Your Life!" and "A Setback Is A Setup For A Comeback." They have been translated into many languages. His client list includes: Raytheon, Marriott hotels, Hyatt hotels, Verizon Enhanced Communities, Weichert Real Estate, National Federation of State High Schools, Mary Kay Cosmetics and the Social Security Administration
Henry Franklin played on Hugh Masekela's 1968 number one single, "Grazing in the Grass," as well as with Masekela's band at the Monterey International Pop Festival in June 1967. In addition, Franklin has played and recorded with Gene Harris & the Three Sounds, Hampton Hawes, Freddie Hubbard, Bobbi Humphrey, Willie Bobo, Archie Shepp, O.C. Smith, Count Basie, Stevie Wonder and Al Jarreau. Franklin's recording—composed by Sanifu Al Hall, Jr.– "Soft Spirit" was featured on the breakbeat compilation Tribe Vibes as it had been sampled by the musical group A Tribe Called Quest.
Encourage by his father, Sammy Franklin, a jazz trumpeter and bandleader, he studied with Al McKibbon and George Morrow and listening to Paul Chambers and Doug Watkins. While attending the Manual Arts High School he played with his first professional band – the Roy Ayers Latin Jazz Quintet. Around that time, Franklin worked with Harold Land and Hampton Hawes. Years later he would tour Europe with Hawes and record five albums with him. In Los Angeles, Franklin also played with Ornette Coleman, Don Cherry, Billy Higgins and Scott LaFaro.
Al Edmondson, Chief Executive Officer of Edmondson Communications, has over 30 years of experience in the music industry. Edmondson Communications services are to help independent music labels.
Edmondson Communications has a staff of professionals to help develop artists. Target marketing & promotions are the key to establishing independent labels & artists. We will service your product to retail, radio & print media. Edmondson Communications specializes in Gospel, Christian and Contemporary Christian music. Edmondson Communications has worked with the following.
Jett Edwards: Born in North Carolina, grew up in a household of Professional Entertainers his farther (Hiawatha Edwards was one of the Top Gospel Singers. Jett & his brothers learned how to play Multiple instruments from him, He recorded his first record as a Bassist on his fathers LP, Jett wrote his first recording at the age of (14) Years old (Lonely Man) recorded on Philly Sounds.
Jett Edwards: Later became one of the first Black Americans to perform at the Grand O Opera in Tennessee with (The Five Blind Boys Of Mississippi). The group also won a Grammy Award the following year Jett Edwards was Bassist for the Group. Jett, worked as A&R Director/ Producer for Michael Jackson's Family Label for more than 3 1/2 Years, with Mr. Ben Brown. Producer: Double, George Benson, Janet Jackson, Dianna Ross, and L.A. Lakers, Hiroko, Crusaders, Da Pump, Sounds Of Harmony,Total Kaos, Dice K, Temptations, …


Jett Edwards – Bassist: As a Bass Player, Jett has shared the stage & Performed with Artist such as: Elton John, Rick James, Shalamar, Temptations, Edgar Winter, Wayne Henderson Of Jazz Crusaders, Tuck & Patti, Glenn Cambell's Band, Dionne Warwrick, Ernie Isley, Latoya Jackson, James Brown's JB's, Bobby Womack, Prince, General Public, Dave Wakley, Sly & The Family Stone, Paul Mc Cartney, Steve Miller Band & many, many, others.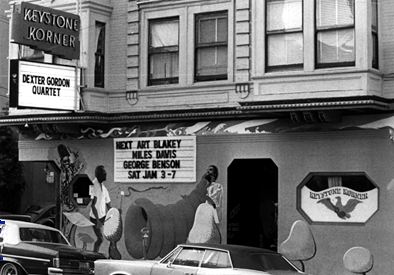 For over 25 years, Todd Barkan has distinguished himself as one of the world's outstanding jazz concert and record producers. From his early work as the owner, manager and programmer of the legendary San Francisco jazz club, Keystone Korner to his most recent activity as producer for Fantasy/Milestone/Prestige Records, CBS-Sony Records, Alfa Records, Sunnyside Communications, MusicMasters, Video Arts Music, Venus Records, Blue Note Records and Meldac Records, Todd Barkan has developed an international reputation as one of the highest quality and most effective jazz producers on the current scene.
His recent productions including working with such artists as Tommy Flanagan, Eddie Henderson, Fort Apache, Hiram Bullock, Grover Washington, Jr., Freddy Cole, Bobby Hutcherson and the list goes on. For a complete production discography please visit Todd's Recordings Page where you will also be able to hear Real Audio sound samples from 20 of Todd's recently produced CDs of which several were nominated for Grammys. Visit the Keystone Korner Gallery and view classic photographic moments from Todd's legendary jazz club in San Francisco, the Keystone Korner. Check out Projects to find out what Todd is up to lately and hear previews of records before they are released.
What Happens After The Cross of PMG Global is an Inspirational Hip-Hop group whose energetic outfit comprises of two MC's Hasib and Choclatt, that joined forces after solo careers (Choclatt topped Billboard's "Bubbling Under" chart and Hasib and his songs had been featured in numerous national commercials for AT&T, Pepsi, Budweiser, Minute Maid, and McDonald's to name a few). As longtime friends, Hasib invited Choclatt to perform the song, "Shake It Up" for a Pontiac Sunfire commercial in which the two New Yorkers were featured. The chemistry bloomed and the fiery duo was born.
What Happens After The Cross chose the name because they wanted to pose the question after receiving salvation, what do you do with it? Do you keep it confined in the four walls of a church or take it to the streets to help others receive it too? And that is exactly what this gifted rap duo is prepared to do – address a young generation who crave the sonic experience of today's music but not necessarily the message. What Happens After The Cross' focus was not to preach to the choir but to reach the people in the streets by simply telling their story over music they can relate to.
MDI Distribution Inc. was established in 1984 in Dallas, Texas. Through the years, MDI Distribution has distributed such labels as Tommy Boy, TVT, Warlock, K-Tel and Ichiban, just to mention a few. MDI Distribution distributes audio, video and DVD product. MDI as a company knows and understands the Independent Music Industry as a whole, and for this reason we are happy to have you as our partner and are looking forward to working together for an exciting future.
"I Tutor You Tutor" (ITYT) is the brainchild of Donnie Mack. With more than forty years as a musician, "Artist Educator" and facilitator of performing arts and print and visual media, he has twenty years of event planning and concert promotions. Donnie has fifteen years of radio, retail promotions and marketing. He is the founder of "CAB" (Covering All Bases) music industry workshop and seminars. He has a diverse promotions background in the record industry in both the general and Christian markets, (Jazz, Blues, Latin Pop, Southern Soul, Inspirational Christian Hip Hop, Christian rock, Comedy, Spoken Word and Traditional Gospel).
Rock and Roll Hall of Fame inductee Solomon Burke was called the "king of rock and soul" only a few years into his career, and decades later his title remains unquestionably valid. A true musical pioneer, his voice was one that brought what we now call rock and roll to the masses, bridging the gap between races, musical genres and even geography. It's with deep sadness that we now mourn his loss, but his musical legacy will never be forgotten in shaping American history and influencing generations to come.
A larger-than-life rhythm & blues singer, Solomon Burke was one of the mainstays of Atlantic Records' "soul clan" of the Sixties. He was proclaimed the "King of Rock and Soul" in 1964 and has also been anointed "the Bishop of Soul." No less an authority than Jerry Wexler, the legendary Atlantic Records producer, has proclaimed, "The best soul singer of all time is Solomon Burke." Burke's versatile, force-of-nature voice combines gospel fervor, country gentility and R&B grit. He can swing from a satiny croon to gruff soul shout to a deep, caressing baritone.​
WMGW Films is dedicated to producing and distributing Independent films and documentaries to the global community that showcase educational , music genre and family related themes. A straight to video or straight-to-DVD or straight-to-BluRay depending on the medium upon which the movie is made available release occurs when a movie is released on home video formats (such as VHS, DVD, etc.) without being released in theaters first, thereby not taking into consideration the "theatrical window".
As a result of strong DVD sales, STV releases also achieved higher success and have become a profitable market lately, especially for independent movie makers and companies.Direct-to-video (also known as direct-to-DVD, direct-to-iTunes, direct-to-digital, made-for-video, straight-to-video, and straight-to-DVD) . Direct-to-video releases have become something of a lifeline for independent filmmakers and smaller companies. Direct-to-iTunes has revolutionized the short film industry.
As the first Christian entertainment offering on Video on Demand in the U.S., EnLive provide the programs you're looking for, at the press of a button. With access to a vast library of safe, family-friendly content, you can find engaging entertainment for every member of your family.
EnLive is a division of Christian Library on Demand (CLD), an online and Video on Demand resource specializing in faith-based programming. Daily we are screening and building our library with kid's shows, music and music videos, movies and drama, art house, sports, health and lifestyle, and more… All of our programming meets an established criteria for production quality, faith-based content and entertainment value.
Established in 1999, Main Man Films is a coalition of international producers, writers, directors, actors and technicians active in the TV / Film Industry. MMF is linked directly to notable talent (actors, producers, musicians, composers, etc.) and other industry professionals including distributors and syndicators. Whether you have an idea, completed script or a 'produced' program our team can assist you with taking your project from concept to distribution.
So Bold is a Management and Consultant company. Douglas( II NICE) Lofton is the CEO of So Bold Entertainment that has been in existence since 2000; So Bold Entertainment roster included Artist like Rapper Mic Burna, signed to NoKio of Dru Hill label (ARG/So Bold Ent/Universal).
/